Test Prep
1. Cite Text Evidence
All of our featured articles come with close-reading analysis questions to give students valuable practice finding textual evidence to supoprt their arguments. They can be used as discussion questions in a whole-group setting, or assigned to students to complete online for individual instruction.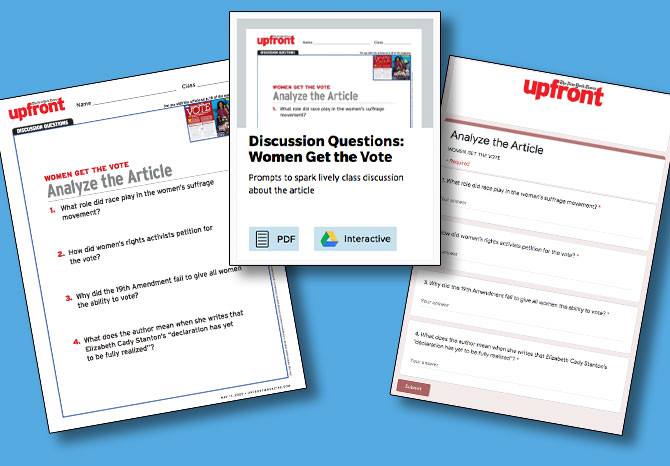 Turn your students into foreign affairs experts with World Affairs 2020! Our special 40-page issue features colorful, detailed maps of continents and regions, statistics on each of the world's 196 countries, news briefs on issues making headlines worldwide, and our fun and informative Snapshots graphs. And our interactive World Almanac and Atlas are sure to grab students' attention. Encourage students to use World Affairs 2020 as a year-round desk reference and research tool! Watch this short video to learn more.
Prepare students to respond to document-based questions with our Primary Sources text set. Every issue of Upfront includes a primary source Skill Builder—and dozens more are available in the Primary Sources text set.
4. Assess Comprehension
Did you know we model our multiple-choice questions after those we see on state tests? We include interactive quizzes with every issue of Upfront. You'll also find interactive activities with short-answer and constructed-response writing questions.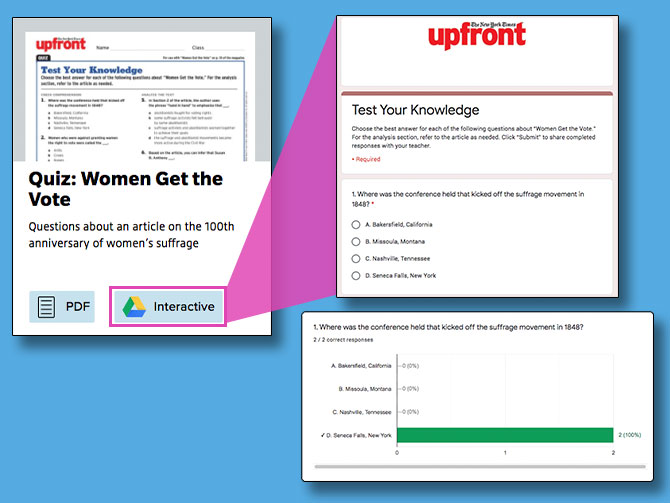 When you see the Interactive button on one of our activities, click it and you'll be prompted to make a copy of the quiz that you can assign in Google Classroom! You can even customize and edit the quizzes before assigning them.
Students' responses will be captured and sent to you automatically. Multiple-choice questions are scored automatically, and you can review and grade the writing responses. You can view and print reports at the student- and class-level, or even on a question-by-question basis.